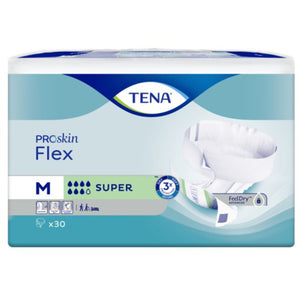 Tena ProSkin Flex Super Briefs
TENA® PROskin® Briefs are designed for comfort because they are 100% breathable to help your skin's natural protection. They are also designed for security with hook tapes that are easily adjustable to get the best fit and absorbent material to help you feel dry day or night. 
Fully breathable one piece belted brief style providing moderate to heavy incontinence protection.
**We understand the price of these briefs is very high and would like to suggest a similar option that is less expensive, please search item 165472, Molicare Premium Elastic**
Extra wide comfistretch™ belt.
Flexible elastic bands.
InstaDri Skin-Caring System™ Technology.
Absorbent core.
Air circulation skin-caring backcover allows liquid and odours to stay in while water vapour escapes.
Small - fits 24-34" - 3 bags of 30/case (90)
Medium - fits 28-42" - 3 bags of 30/case (90)
Large - fits 33-50" - 3 bags of 30/case (90)
X-Large - fits 41-61" - 3 bags of 30/case (90)
Shipping + Returns

Most orders are processed between one and two business days. All items are shipped in plain brown packages with our return address label and your address. There is no indication of what type of products are inside the package. If you would like to return your order for any reason, please contact us for a 'Return Authorization Number'. All items returned must be in the original packaging and in resale condition. Please note, returns will not be accepted without a 'Return Authorization Number'. All refunds must be approved by Quality Life Services. For additional information, please contact mail@qualitylifecares.com.

Help

We would love to assist you the best way we can.

You can find some of the most common questions and answers about our store on our FAQ page.

If you couldn't find your question in FAQ, please contact us directly.