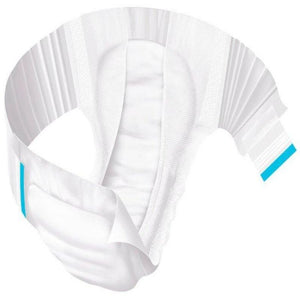 Molicare Premium Elastic Briefs, 6 Drops
All-in-one incontinence brief with 2 elasticated side panels: suits and adapts to all body shapes and movements and provides an ergonomic use - approximately 20% faster application as well as easier and more ergonomic handling for caregivers.
Comfortable, adjusted fit and ergonomic handling due to the 2 elasticated side panels and re-closable tapes.

Skin-friendly thanks to soft and breathable material.

The antibacterial finish and pH buffering help to maintain a skin-neutral pH value of 5.5.

All-round protection is provided by fast absorption, anti-leakage system and quick dry system.

Hypoallergenic and dermatologically tested.

Wetness indicator on the back sheet shows when it is time to change.
X-Small - fits 17-23" - 18 oz absorbency - 4 bags of 30/case (120) - traditional tabs
Small - fits 19-35" - 20 oz absorbency - 3 bags of 30/case (90)
Medium - fits 31-47" - 23 oz absorbency - 3 bags of 30/case (90)
Large - fits 43-59" - 24 oz absorbency - 3 bags of 30/case (90)
X-Large - fits 55-69" - 24 oz absorbency - 4 bags of 14/case (56)
Shipping + Returns

Most orders placed before 2pm on any given business day will be delivered the following business day. All items are shipped in plain brown packages with our return address label and your address. There is no indication of what type of products are inside the package. If you would like to return your order for any reason, please contact us for a 'Return Authorization Number'. All items returned must be in the original packaging and in resale condition. Please note, returns will not be accepted without a 'Return Authorization Number'. All refunds must be approved by Quality Life Services. For additional information, please contact mail@qualitylifecares.com.

Help

We would love to assist you the best way we can.

You can find some of the most common questions and answers about our store on our FAQ page.

If you couldn't find your question in FAQ, please contact us directly.