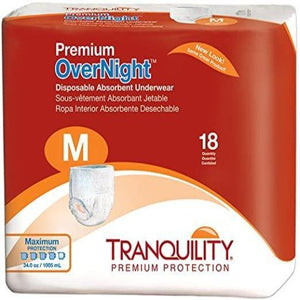 Tranquility Premium Overnight Disposable Underwear
The Tranquility brand of disposable pull-ups or DAUs (disposable absorbent underwear) was launched in the early 2000s. The manufacturer wanted to offer the most absorbent pull-up on the market with the fastest draw away, and they succeeded. This single line of products has made an enormous impact on the lives of people suffering from incontinence. A pull-on style product with an absorbency as high as this has allowed people to wear disposable underwear instead of tape-tab style briefs. This was a game changer that allowed people to not only get through the night without changing bedsheets and pajamas, but also made it easier for the wearer to toilet themselves.
Read more
Tranquility is one of the only brands to show on the packaging exactly how much they absorb as opposed to showing raindrops to convey absorbency. The medium to XXL sizes all have a capacity of 34 ounces which makes this product the most absorbent pull up on the market today! These pull-ups are offered in five sizes ranging from XS to XXL. The XXL size is suitable for someone with a 60 to 80-inch waist. Often, it is difficult to find larger-sized pull-on style disposable incontinence products. However, this XXL sizing has a very soft and pliable waistband making them very comfortable for people of all sizes.
Most would think that a product of this kind would be thick and uncomfortable with such a high absorbency, but it is the grade of super absorbent polymer (SAP) that enables this level of performance. The SAP encapsulates liquid and turns it into a gel. This neutralizes the pH within seconds and effectively controls odour as well. In a recent survey of ambulatory people suffering from incontinence, the primary concern is body odour, with leakage being secondary.  
There is often a misconception that the more a pull-up product absorbs, the thicker it will be, which is not the case. The Tranquility Day Time Pull Ups with a 25-ounce capacity is the same thickness as the night product with a 34-ounce capacity. One of the other features that differentiates this product from other brands is the inner leg cuffs, which not only help contain liquids, but loose stools as well.
After being on the market for 20 years, this product is now an industry leader with unrivaled competition. The Tranquility Premium Overnight Pull-Up is used by people in the community, within group homes and those in long-term care. Overall, this pull-up is definitely one of the most high-quality products on the market today.
X-Small - 17-28" or 65-85 lbs. - 20.3 oz absorbency - 4 bags of 22/ case (88)
Small - 22-36" or 80-125 lbs. - 20.3 oz absorbency - 4 bags of 20/case (80)
Medium - 34-48" or 120-175 lbs. - 34 oz absorbency - 4 bags of 18/case (72)
Large - 44-54" or 170-210 lbs. - 34 oz absorbency - 4 bags of 16/case (64)
X-Large: 48-66" or 210-250 lbs. - 34 oz absorbency - 4 bags of 14/case (56)
XX-Large: 62-80" or 250 + lbs. - 34 oz absorbency - 4 bags of 12/case (48)
Shipping + Returns

Most orders placed before 2pm on any given business day will be delivered the following business day. All items are shipped in plain brown packages with our return address label and your address. There is no indication of what type of products are inside the package. If you would like to return your order for any reason, please contact us for a 'Return Authorization Number'. All items returned must be in the original packaging and in resale condition. Please note, returns will not be accepted without a 'Return Authorization Number'. All refunds must be approved by Quality Life Services. For additional information, please contact mail@qualitylifecares.com.

Help

We would love to assist you the best way we can.

You can find some of the most common questions and answers about our store on our FAQ page.

If you couldn't find your question in FAQ, please contact us directly.
the one and only product that works overnight.
Its hold a hell of a lot of liquid!
Review
Not absorbent enough for present condition of frequent 'drips'.
You are not honest.
You showed a package of 6 .
Sent 2 . I payed $6 in shipping for 2 .
You are so dishonest we will never use your product
Terrific Product
I've been using the Tranquility Premium Overnight Disposable Brief for a long time and they are dependable and fit well. It's nice to have peace of mind while in bed.
big or small.
one of the tranquility was too small and the other was slightly too big.