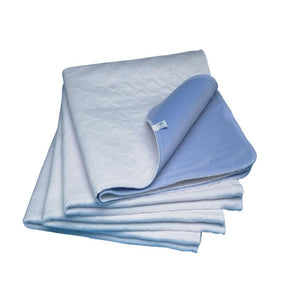 Washable Bed Pads
Bed pads and under pads are designed to be placed on top of your mattress and sheets to help keep them dry. You can also use under pads to help protect furniture like couches and armchairs or in the car.
**SOLD AS 2 UNITS PER ORDER**
Price reflects 2 bed pads
ALL WASHABLE PRODUCTS ARE FINAL SALE, NO EXCEPTIONS.
Care:
Chlorine & Stain Resistant
Impermeable
Hot water wash and high heat dry
C904I - 17x24"
C901I - 30x34"
C902I - 34x36"
C905I - 34x45"
BP3454 - 34x54" 
Shipping + Returns

Most orders placed before 2pm on any given business day will be delivered the following business day. All items are shipped in plain brown packages with our return address label and your address. There is no indication of what type of products are inside the package. If you would like to return your order for any reason, please contact us for a 'Return Authorization Number'. All items returned must be in the original packaging and in resale condition. Please note, returns will not be accepted without a 'Return Authorization Number'. All refunds must be approved by Quality Life Services. For additional information, please contact mail@qualitylifecares.com.

Help

We would love to assist you the best way we can.

You can find some of the most common questions and answers about our store on our FAQ page.

If you couldn't find your question in FAQ, please contact us directly.
Not happy as they were the wrong ones and could not return an unused product.
I have not use the products as yet.I have to wait until its used. Is a 🎁 gift
Thank you
i do not know yet call me in 2 months
performance
Seems to be performing well. Not enough significant washings to evaluate the durability, though.
Bad pads
Works great,wish they were bigger .